Fun & Interesting Facts about Indian Weddings that are worth a read!
Updated: Feb 15
In India we all follow Indian wedding traditions & customs/rituals, rarely any of us knows the reason/meaning behind them. So, I decided to take a step back & literally find out the reasons behind most of these Indian wedding rituals & believe me, you will find it fun and interesting.
Here's leading to you, the most fun & interesting facts about Indian wedding traditions –
1. Application of mehndi before the D-day:
Everyone knows that I think even you also the darker the bride's mehndi, the stronger her marriage will be! Another trust is that if the mehendi lasts longer on the hands of the bride than her fiancé, she will get more love from her in-laws! Strange, right?
Alright, so the actual reason why mehndi is put in is that it calms the nerves and keeps the body from becoming tense. Plus you will be amazed to know that mehendi is an extremely antiseptic agent which can guard you from viral diseases. We are sure you won't mind getting mehendi on your hands & feet now :)
1. Things You Should Not Do When Planning Your Destination Wedding
2. Top 5 Myths Related to Online Matrimony Sites
2. Turns out it's your "ring finger" for a reason: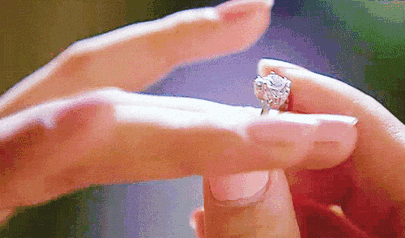 Engagement and wedding rings are worn on the fourth finger of the left hand because it was once thought that a vein in that finger joined directly to the heart. The Romans even called this vein the "vena amoris" or the "vein of love".
3. Why you should not lend your wedding outfit:
So the reason you are always discouraged from lending your wedding dress to someone is that it may bring the vagabond good luck, but this liberality of yours can bring bad omen to you. So, if you are thinking about lending your wedding dress to someone else then we say think again.
4. The ghoonghat story:
Brides customarily wear veils because ancient Greeks and Romans trusted they protected her from evil spirits. We Indians wear the ghoonghat for the same reason as well!
5. Ek chutki Sindoor:
Apart from being the symbol of matrimony for a Hindu woman, Sindoor (red vermilion powder) has some great health benefits as well. It holds turmeric, lime, and a minute level of mental mercury. So, when it's applied on the hair partitions, the mercury cools down the body and makes you feel relaxed. It's also trusted to activate a sexual drive within you uhh uhh.
6. Right leg forward:
In Hindu and Sikh customs, brides slant the "kalash" with their right foot, carrying food grains on the doorstep of her new house. This shows that her addition to the new house will bring health and prosperity to the couple's life!
7. Pulling the groom's ears:
In a lot of cultures, the bride's mother fun-loving catches the groom's nose - this is to remind him to always care for her as a daughter well.
A similar ceremony continues in Marathi weddings called "Kaanapali", where the bride's brother playfully twists the groom's ear to take out a promise from the groom. Funny, isn't it?
8. Vidaai:
The Vidaai ceremony is commonly the most emotional part of any wedding! Some cultures trust that the more the bride cries at her Vidaai, the happier her married life will be!
Also, in some cultures it's believed that if the bride sheds a tear or two at her Vidaai, she'll never cry again after marriage. Well in that case keep the tissue boxes handy gals!
9. The dulhe ka sehera :
Do you know the secret behind why we wear Sehera? Well according to a popular trust - the Sehera will save him from all the buri nazar!
10. Dowry:
While the dowry system is no longer prevailing, many parts of the country still see the groom receiving handsome amounts of money from the bride's family.
The chatter is true in Indian Muslim weddings. A tradition called Meher is followed, where jewelry, cash or other precious gifts are given to the bride by the groom before and after completion of the marriage. Well, it's 2018 and can we be done with this already?
11. Black and white phobia:
It is taken as very rude to wear just black or white to a Hindu wedding as these colors are taken as the colors of mourning and thus are inauspicious! Even so, various shades of white are quite famous today and many modern brides select white lehengas or sarees with colorful borders and beautifications. And why not?
12. Let it rain:
Pacify all the bridezillas who are frightened that it might start raining on your wedding day! There is no requirement to be gloomy. As it turns out, though it may damp some of your décor, it's taken as a favorable omen - it's a good sign for fertility for the married couple!
13. Cooking spree:
It's usually for nayi dulhan to prepare something sweet when she sets foot in her kitchen for the first time! It's trusted to bring good fortune to her new life! Here's expecting that you know how to make a dish or two :)
12 Holy Rituals of a Tamil Hindu / Indian Wedding Rituals That Make it a Remarkable Visual Event
14. Say no to candles:
It's taken as a very bad omen if the candles start to babble out during your wedding. If that takes place, it is trusted that an evil spirit is nearby. So, just keep your eyes open.
15. Rice throwing:
Fling rice at a wedding is taken to be very propitious. It is a sign of ample fertility as well as a way to protect the newlyweds from the evil spirits.
Uttar Pradesh wedding Rituals | One Kanpur Wedding Will Definitely Take Your Heart
16. Ever wondered where the phrase "tying the knot" came from?
Almost in every culture around the world involving Hindu, Celtic, and Egyptian weddings - the sister of the groom ties many knots in a long string and the bride and groom are assumed to use one hand each and work together to open the knots. It is trusted that the sooner they untie the knots, the smoother their wedded life will be.
17. Ransom Shoes:
In many cultures it is tradition for bride's sisters to hide the broken-down shoes of the groom! After the wedding, he is asked to pay a ransom for its return. We hope the groom comes prepared.
18. Ring control:
In this coming-home-after-the-wedding game, a ring is unseen in a container filled with milk and vermilion. The bride and groom are then asked to immerse their hands into the bowl to search for the ring. The one who searches the ring four out of 7 times is forecasted most likely to dominate the other one!
I hope you will like this blog on Fun & Interesting Facts about Indian Weddings that are worth a read!
If you are looking for your perfect match. Register today on RVD Matrimonial Services. Or call on +91-9971567503.